LOW COST TELESCOPE MAKING
A telescope for a common student is not easy to posess because of it's price.But it is easy to make for anybody who are interested in Astronomy with a negligable cost.
The maximum expence is less than 2 dollars. It does'nt mean that a person can make a telescope of great magnification with this expence but for a beginner who is intersted it is enough.
The basic matirials required are:
1- An ordinary convex lens with 50 mm. diameter and 500 mm. focal length.(For objective.)
2-An ordinary convex lens with 38 mm. diameter and 50mm. focal length.(For eye piece.)
3- 1.5 inch PVC pipe with 40 cm. length.
4- Joint of 1.5 inch PVC pipe = 1 No.
5- Pipe reducer of 1.5 to 1.25 inch.
6- 1.25 inch PVC pipe for eye piece unit.
(Length :20 Cm.)
7- PVC joint 1.25 Cm. 1No. for eye piece.
8- PVC solvent 25 gm.
9- required tools.
HOW TO ASSEMBLE IT ?
STEP 1
Insert 1.5 inch convex lens with 50 cm focal length and 5 cm diameter in to PVC joint of 1.5 inch diameter.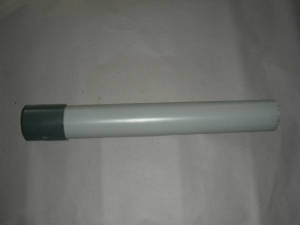 STEP 2
Insert 1.5 inch p v c pipe with 40 c m .length in to the joint.
STEP 3
Insert 1.5 to 1.25 p v c reducer in to the other end of 1.5 inch p v c pipe.(After scraping off the stoper from the reducer with a blade to move the inner pipe freely.)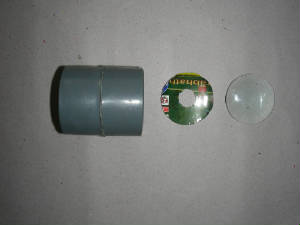 STEP 4
For eye piece unit incert 38 mm. diameter and 5 cm . focal length convex lens into 1.25 inch pvc joint.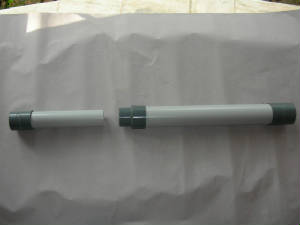 STEP 5
Now both objective and eyepiece units of the telescope are ready.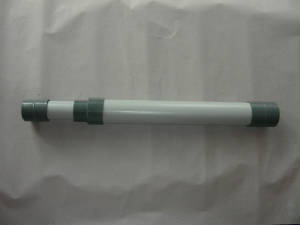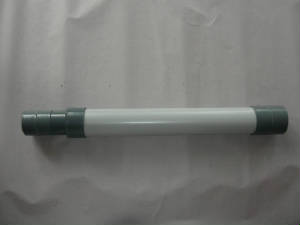 STEP 6
Now telescope is ready.
This telecope is good for observing the Moon for beginners and can observe some clusters and nebulas.If observe the Jupiter we can detect it's four Galelian satelites as four faint points.Some globular clusters like M 14 can be seen as a bunch of thousads of stars.The main thing is related to the interest of the observer.However rings of the Saturn and cresant shape of Venus and Mercury canot observe because of chromatic aberration due to low quality of lens.